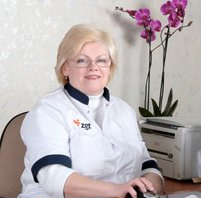 Obstetrician and gynecologist of Expert Superior Category
The Head of the Family Planning and Assisted Reproductive Technologies Department.
Organized the introduction of modern high-tech diagnosis and treatment methods aiming at reducing reproductive loss.
Education:
Minsk State Medical Institute, 1982
Refresher Courses:
BelMAPGE "Problems of reproduction and adolescent reproductive health. Modern technology in the infertility diagnosis and treatment", 2010
United Nations Population Fund Certificate "Training for training seminars on family planning, preservation of sexual and reproductive health of people living with HIV / AIDS", 2010
Institute of Reproductive Medicine of Ukraine Certificate "Assisted reproductive technology in the infertility treatment", 2011.
The leading doctors of Republican research center "Mother and Child". Has achieved the results that meet international standards.